Jeep YJ - Betsy's going under the knife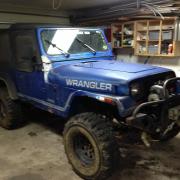 When you start modifying and installing parts on customer vehicles your own Jeep gets put on the back burner.  Extreme Roc Rigs has been in business since February 2007 and since that time my personal Jeep has literally been put out to pasture.  I made a goal this year to get the ole YJ back into good running order so my family and I could enjoy the great outdoors more.  Most of the modifications you see now occurred within the first couple of years of ownership.  I purchased the 92 Jeep YJ used from the local Jeep dealership in October '93.  I drove it off the lot that cold rainy day and found the muddiest and nastiest back road I could find and haven't looked back.  What you see here is the way I drove it daily until August 2008 when I inherited my wife's '02 Grand Cherokee.  The current specs are as follows.
Year: 92
Make: Jeep
Model: Wrangler (YJ)
Color: Blue
Spring:  SUA 4.5" Rubicon Express Extreme Duty Leaf Springs
Shocks:  Trailmaster
Shackles: M.O.R.E. 5-1/4" Boomerang
Front Axle: HP Dana 30 with Disconnect
                Differential: ARB & 4.11
                Shafts: OEM
Rear Axle: XJ Dana 44
                Differential: 35 spline ARB & 4.11
                Shafts: Moser Engineering
                Brakes: TSM Mfg Kit
Engine: OEM 4.0L
                Header: Borla
                Muffler: Flowmaster
                Cat: High Flow
                Tubing 2.5"        
Transmission: AX15
Transfer Case: NP231 with self-made SYE
Clutch and Pressure plate: Centerforce Dual Friction
Driveshaft:
                Front: OEM
                Rear: Tom Wood's CV
Tires: 34x10.50-R15 LTBs
Rims: American Racing "D" hole steel 8" with 3-3/4"BS
Bumper: Custom Made by myself
Winch: Warn 8274
Currently we are rebuilding the AX15 5-speed.  The synchronizers and some of the bearings have gone bad and desperately need replacing.  Why keep the AX15 you ask, the rebuild kit was cheap and we still have the tired 4.0L.  We have several other modifications in the works that will replace the motor, transmission and transfer case.  These mods are down the line so we are just rebuilding the transmission and oh yes the NP231 for now so we can get back out on the trails.
One of the things that needs attention is the skid plate.  It's done its job protecting the transmission and transfer case but is showing its age from all the trails we have enjoyed for a little over 20 years.  The stock skid plate is going to be replaced with a custom Extreme Roc Rigs skid plate that will protect more than just the transmission and transfer case.  The goal of the new skid plate will be to increase ground clearance, improve accessibility for greater ease when cleaning the under carriage and greasing the front driveshaft's U-joint at the transfer case.